A family of 4, from the 17th of August to the 24th of August, 2-bedroom cottage : from 2.120€
A single person, from the 13th of July to the 20th of July, share bedroom : from 520€
There is a 10% discount off the total price if you book 2 weeks and more.
All families with a child younger than 3 years old will get a "Young parents" special discount of 70€.
Find out more details with our quotation and booking tool.
2. Does the village rate include all expenses?
Our rates include the lodgings that you choose, all the courses, workshops and evening events as well as meals (breakfast, lunch and dinner).
For some workshops, the most expensive materials are payable to the course leader. The activities organized by local agencies that take place off site also require an additional charge. The "taxe de séjour" (occupancy tax) of 0.90 € per person per day is to be paid upon arrival.
3. What do you offer, that is not offered by other holiday resorts?
All holiday resorts are obviously places to relax, meet people and share passions, interests and know-how. We put particular emphasis on the exchange of interests and skills. This is what makes us different. We develop this aspect by working in partnership with "Université des Passions", and make the most of the presence of the course leaders and instructors.
We are happy to welcome each summer artists, professors, experts and talents with whom we wish to share our holidays. Regarding the course leaders and instructors, they are always happy to meet an enthusiastic and appreciative public, eager to learn and garner a greater knowledge of their particular area of expertise.
Contact our English-speaking team for further information:
+ 33 1 49 52 90 24

Our Courses
Use our search engine to browse through all of our courses.
Most of our instructors are French, and we have listed those who can lead courses in English and German. Depending of your level of language, feel free to join.
FAQ
1. How much does a course cost? And several courses?
Nothing more than the village rate. The courses are made up of maximum 2 hour-modules per day, meaning they are easily stacked up without added fees. Our partner "Université des Passions" gives free and open access to all classes; hence there is no additional charge whether you do one, two or five courses!
2. How to book a course? Can I be sure of the dates?
The main principal of Faistesvacances is that it's the passion that is exchanged and shared, not the subject matter itself. It is therefore imperative to meet and engage with the course leaders face to face. You sign up directly with them during the "Marché aux Stages" on Sunday morning, the day after your arrival. Bear in mind, it's always a good idea to let yourself be surprised by trying something new! There can be new courses that become available but, inversely, as with all things human, there can occur a change of date or cancellation of a course, the latter being rare (less than 5%).
3. How can I be sure that there will be space on a particular course?
All you have to do is start the "Marché aux Stages" by going straight to the stand corresponding to that course. Reservations cannot be made prior to this, so you are sure to have a place!
Contact our English-speaking team
to learn more about our courses
Our accommodation
Faistesvacances offers several choices of accommodation for every budget and every need. Families, couples or friends: everyone will find its happiness.
Comfort formula: private accommodation
You rent a fully equipped apartment in our resort or in a mountain cottage, with a private kitchen and a bathroom. Bed sheets and pillowcases are provided, but you need to bring your own bath towels.
There are several locations in Doucy village, as well as several levels of comfort: from a studio to a 4-bedroom.
Budget formula: shared accommodation
Rent a room in a shared-apartment
You will share a 2-bedroom apartment in one of our cottages. You book the room alone or with a friend, and share the kitchen and the bathroom with roommates from the second room. No extra charge for a single booking. There are several locations in Doucy village.
Rent a bed in a shared-room
You will share a room in a 2-bedroom apartment in our resort or in a cottage. You share the kitchen and the bathroom with a maximum of 3 roommates. There are several levels of comfort and locations in the village. It's our cheapest proposal.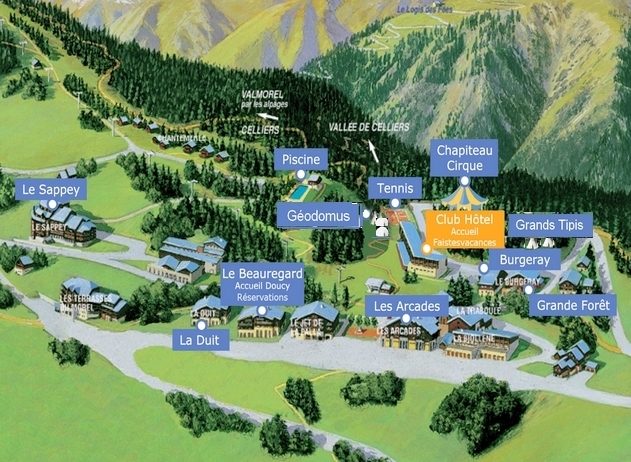 Drop us an e-mail to
know more about our accomodation
Transportation
How to get there ?
Address
FaisTesVacances
Club-Hôtel de L'Eau Rousse
73260 DOUCY-COMBELOUVIERE
Tél. : +33.4.79.24.08.98.
GPS coordinates
- Longitude : 45.499564
- Latitude : 6.453727
Warning ! the SatNav can show Doucy en Bauges instead of Doucy en Tarentaise. It's a common error that could easily cost you an hour or so. Doucy-Combelouvière is the given name for Doucy-Tarentaise, a village linked to Saint Oyen and La Léchère.
How to get to Faistesvacances ?
By car
• Head to Albertville via the A43 from Chambéry or the N212 from Annecy, follow the express lane RN90 towards Moûtiers (dual carriageway).
• Take exit 37 to La Léchère, Saint Oyen, Doucy-Combelouvière, Valmorel and Naves. From there you will arrive at the Club-Hôtel L'Eau Rousse where our team will be pleased to great you.
Car Sharing
If you are not familiar with how this forum works, subscribe by sending us an email with your offer or demand to share a car with other holidaymakers.
If you expect to arrive after 7pm please give us a call to arrange a meeting at reception.
By train
• From the TGV train station "MOUTIERS-SALINS-BRIDES-LES-BAINS" then the TAXI-BUS at the exit for Doucy-Combelouvière.
To get to Doucy from the train station, we advise you to reserve the taxi-bus by contacting the company Deslandes on +33 (0)4 79 24 06 94. Be sure to mention that you are with Faistesvacances in order to share the cost with other holidaymakers arriving at the same time. The cost for a single passenger is 30€; it can be reduced to 10€ if you share with a group.
By plane
• Genève Cointrin airport (at 125 km) or Chambéry Aix-les-Bains (90 km).
Contact our English-speaking team
to receive a brochure or to book your stay

Modes of payment

1. What are the conditions of payment?
In order to confirm your booking, a down payment of 30% is to be paid within 8 days of making your reservation. The balance is to be paid at the latest 30 days before the start of your holiday.
2. What are the accepted means of payment?
To pay for your holiday, the following possibilities are available:
From everywhere
Online by bank transfer or paypal

If you live in France

- By cheque, made payable to Faistesvacances and sent by post to:

Faistesvacances
1 rue Auguste Vacquerie
75116 PARIS
FRANCE

- By chèques vacances (uniquely available for those working in France)
- By cash, at our Paris office by appointment only.
3. Is it possible to cancel a booking?
You can cancel your booking free of charge up until 10 days before your holiday is due to start, for whatever reason, with no need to provide evidence. Anyway, the "Université des Passions" inscription is due.
Contact our English-speaking team
Join us on Facebook